Log On For Fundraising Success
Let's face it, the days of sponsor forms are behind us. This is the digital age and that means it is now easier than ever to boost your fundraising using a variety of online methods...
When a viewer jokingly texted the BBC during the 2012 Olympic marathon asking for a link to the runners' JustGiving pages, it showed how prevalent online fundraising has become. JustGiving is one of the many ways people are using the internet to promote their fundraising efforts, and with digital giving hitting an all-time high, the days of the sponsorship sheet could soon be a thing of the past. northernrunningguide.com looks at some of the best ways to fundraise online...
Ploink
Ploink acts as an online piggy bank where you can donate small amounts of change to charities of your choice. Once a piggy bank has at least 99p in it, you're able to donate the money to your charity through credit, debit, or maestro card. It's a good way of introducing children with a limited budget to the world of online donations.
Guess2Give
Giving visitors a more interactive experience, Guess2Give gets people interested in your race by asking them to guess what your finishing time will be. You can create a Guess2Give sweepstake that lets people estimate how you'll do in the event and whoever guesses correctly wins a cash prize. It's a good way of engaging people in what you're doing, and also gives you an incentive to either live up to their expectations or prove the doubters wrong.
Give As You Live
One for those of you who enjoy a bit of retail therapy, when you sign up for Give As You Live, stores you shop at online donate back a percentage of your bill to any cause you choose. So now you can feel less guilty about spending your month's wages on a high-end of trainers.
Utilising Social Media
Once you've set up a fundraising site, you'll need to use social media to promote it. Posting links on Facebook and Twitter are great places to start. And get your friends to 'share' and 're-tweet' your fundraising endeavours with their friends to widen the pool of donation possibilities.
Create a Video
Making your own video will give people a better understanding of what you're doing and add a human element to the cause. An initial video could simply be you explaining why you're fundraising and what event(s) you will be taking part in. Follow it up with short videos updating people on how your training is going and how much money you've raised so far. Videos are relatively easy to make these days without any specialist equipment, all you need is a cheap digital camera or a smart phone. Upload the videos to YouTube and post the link on Facebook/Twitter, as well as embedding it on your fundraising page.
Photo Blogging
Uploading photos to Flickr or other image sharing websites such as Instagram, is also a great way of adding colour to your campaign and getting people interested.
Online Charity Donations Site
Probably the most well known fundraising site, JustGiving provides an easy way for supporters to set up a page where friends and family can donate to their campaign and be kept up to date with their progress. Other websites providing this service include Virgin Money Giving, Bmycharity, and mydonate. All work in a similar way, it's up to you which one you choose.
Blogging
If you're a little camera shy but have a way with words, you could try blogging about your efforts instead. You can get a free blog on WordPress, and you don't need a qualification in html to be able to use it! Check out our blogging guide here.
Emails
Why not add a link to your fundraising page in the signature of your work email? You might be surprised how many of your 'work associates' will see it and pledge donations. Some charities have image templates you can use to make it look more 'professional'.
So now you have a few choices, it's up to you decide what works best for you and then get out there and raise some cash. Good luck!
eBay For Charity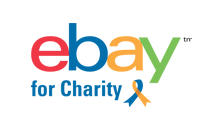 eBay for Charity is an easy way for buyers and sellers on the website to support their favourite charities. Buyers can shop for items knowing they're supporting a good cause and sellers can donate a percentage from any sale to a charity of their choice
This is a more direct, easier way to sell items than the standard 'car-boot' that doesn't involve a 4am start!